Social Ministries
Throughout his life, Jesus reached out to the most vulnerable and offered healing and hope.  As followers of Christ, St. Mark believes service with others is a fundamental way to live out our faith. 
This page offers a brief introduction to many of our social ministries and shares ways you can participate.  We invite you to offer your time and talents as we seek to make a difference and tell the story of our faith.                 
God's work.  Our hands.
BIRTHDAY BAGS
St. Mark works with the Thurston County Food Bank to provide birthday bags for children (ages 1 to 12) of Food Bank clients. The birthday bag contains a cake mix, frosting, candles, a crocheted hat, school supplies, toiletries, a book, a toy, and other smaller age-appropriate items. If you would like to donate supplies or assist with assembling the Birthday Bags, please contact Suzie H.  CONTACT: Suzie H.
---
Branching out
Through this committee, St. Mark serves as a resource for the Homeless Liaison of North Thurston Public Schools (NTPS). Sleeping bags, blankets, food, gift cards, socks and hygiene items are collected and donated for unhoused students and their families. Please watch for announcements of need made during Sunday services, in bulletins, and through emails.  CONTACT: Jan S.
---
Clean Kids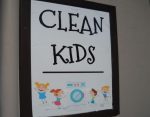 St. Mark provides a free laundry facility located in our educational wing for use by families with students enrolled in NTPS. In the 2018/2019 (pre-COVID) school year, our Clean Kids facility supported 1355 loads of laundry.  Our laundry serves up to two families per day and 10-12 families per week. Due to COVID, our services are currently limited to pre-approved guests.  Volunteers are needed to accompany our guests and explain how to use the facilities.  We also accept donations of supplies or money in support of this ministry. CONTACT: Marilyn A.
---
Closing the gap for youth and families
This sub-group of the Social Justice Team supports current St. Mark Social ministries and advocates for organizations that attend to food insecurity and the unhoused students and families in our community. With an emphasis on partnering with existing services, the GAP team researches resources to share accurate knowledge of what is available via the church and within the wider community. Opportunities, activities, and updates are communicated with the congregation. GAP team members meet twice each month (via Zoom).  Please contact Kristina T-F. if you would like to be a part of this essential ministry. CONTACT: Kristina T-F.
---
Community Garden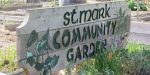 Volunteers plant, tend, and harvest the garden behind the church. Produce is taken to the Thurston County Food Bank. The garden began in 2010 with a harvest of 300 pounds of potatoes.  Since then, St. Mark has donated a total of more 100,000 pounds of fresh produce to our local food bank.  Individual raised beds are also available for use by community members.  Volunteers to work in the garden and monetary donations to support the garden infrastructure are greatly appreciated.  CONTACT: Gail F.
---
Community garden field trips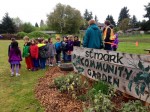 Each school year, classes at Mt. View Elementary School take field trips to our St. Mark Community Garden. Students plant, weed, explore and enjoy the garden. They learn how food is grown and harvested. Volunteers help students working in the garden, fix snacks, and answer questions. Please contact our garden crew if you are interested in participating.  CONTACT: Earla F.
---
Concern for animals

During a Sunday worship in October, St. Mark blesses the animals in celebration of St. Francis Day and receives donations of pet food and supplies for Concern For Animals.  Concern for Animals is an organization providing life-saving services for pets in need in our community.  In addition to offering a pet food bank for pet owners who are experiencing financial challenges, they partner with Meals on Wheels to offer pet food delivery.   In addition, the quilters and Sunday School children team up to make dog beds that are donated to Concern for Animals.  CONTACT: Vicki P.
---
Days for girls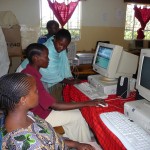 St. Mark partners with a local Altrusa group to support Days For Girls. Days For Girls is an organization that seeks to increase access to menstrual care and education throughout the world.  St. Mark volunteers gather supplies and make sustainable menstrual pads and liners for young women who would otherwise miss school during their monthly periods.  If you do not sew and would like to support this worthy cause supplies and financial donations are also accepted.  CONTACT: Jerry C.
---
Food bank sunday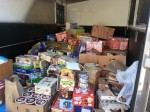 St. Mark encourages members and friends to help fight food insecurity by bringing gifts of non-perishable food or designated funds to church on the first Sunday of each month. Volunteers deliver these gifts to the Thurston County Food Bank. CONTACT: Jenny B.
---
Forkids weekend food bags
Our church collaborates with the Thurston County Food Bank to distribute Friday Food Bags to 2 schools so children who rely on free and reduced lunch programs during the school week can combat food insecurity on weekends. Please reach out to our St. Mark coordinators for more information about this important ministry. CONTACT: Earla F. or Jenny B.
---
Giving Tree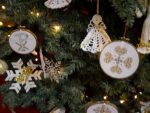 Each Christmas for the past 40 years, St. Mark has provided Christmas gifts of new warm clothing or shoes for preschool children in the Head Start program at Hawk's Prairie and Friendly Grove.  In mid-November, sign up information is announced at church and via the bulletin and weekly emails.  Gift givers and people to receive and deliver the gifts are needed each year.  CONTACT: Jan S.
---
Lutheran world relief (LWR) Quilts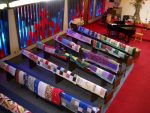 Volunteers meet on Wednesday mornings at St. Mark to piece and tie quilts.  These quilts are sent to Lutheran World Relief for distribution around the world.  Quilts provide comfort, protection, shelter, and warmth to those impacted by poverty, war, or natural disasters.   Each year a total of 300,000 quilts from various sources are sent to LWR for this vital ministry.  You do not have to be a quilter to be a part of our St. Mark quilting ministry.  You can support this ministry by learning how to tie, preparing the quilts for shipment, and offerings of materials or financial support. CONTACT: Dorothy R.
---
meal ministries
Volunteer cooks deliver meals to people of St. Mark during times of grief, need, or recovery.  Jan S. directs the scheduling via e-mail and communicates any food preferences/allergies.  New cooks are always welcome.  CONTACT: Jan S.
---
Member to member fund
This St. Mark fund was established by St. Mark members to assist one another in times of financial need.  Our pastors and Office Administrator oversee the distribution of funds.  Grants from this account are highly confidential.  Contributions to this fund are used solely for St. Mark members experiencing financial need. CONTACT: Pastor Beth or Vicki L.
---
Prayer Shawl ministry
Numerous St. Mark members knit or crochet prayer shawls which are given away to members, friends, and family in response to both joyous occasions and difficult times. This ministry is coordinated by the Craft Group which meets for Craft Night the 4th Monday of each month from January through October for dinner, conversation, and sharing their creative crafts. Although the Prayer Shawl Ministry has continued, the Craft Group meetings have been on hiatus through COVID. They hope to return to regular meetings soon. If you knit or crochet and would like to support this ministry, or if you would like to contribute materials or money, please contact Karen G.  CONTACT: Karen G.
---
Social Justice Team
This new team desires to expand St. Mark's rich history of outreach and education by advocating for dignity and justice for all people.  The Social Justice Team's focus is consistent with the ELCA Advocacy agenda in addressing issues of economic, racial, environmental, and political justice. This team welcomes new members. CONTACT: Gail F.
---
St. Mark neighbors fund

This St. Mark fund supports our neighbors experiencing difficult times financially.  Members of the community may receive grocery/gas cards or similar assistance through St. Mark.  Our Office Administrator oversees the distribution of funds.  If you would like to support this fund, 100% of your designated offerings will be used to assist members of our community who express need. CONTACT: Vicki L.
---
Start of school clothing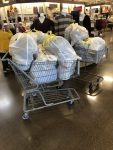 Each year in mid-August, St. Mark partners with the NTPS Homeless Liaison to purchase new school clothes for students in need. In 2021 we supplied clothing for 15-16 students in 5 families. Announcements of need are made in Sunday services, bulletins, and emails. Funds to support this ministry come from donations and grants.  Contact Margit S. if you would like to assist with the shopping or support this ministry in another way.  CONTACT: Margit S. or Juliana A.
---
Thanksgiving & Christmas grocery gift cards
St. Mark coordinates with the School Counselor at Mountain View Elementary school to gather and distribute gift cards to selected student families.  In 2021, the congregation donated $2,952 to this mission.  In the months of November and December, announcements are made in Sunday services, bulletins, and emails for the collection of gift cards and financial offerings for this ministry. CONTACT: Gail F.
---
If you would like more information, please contact the St. Mark Church Office at 360-491-2052 or office@stmarklacey.org.
God bless you as you love and serve your neighbors!