Community Garden
Contact: Gail F
St. Mark Community Garden was established Spring of 2010. We have 46 drip-irrigated raised beds to share with our community, and a large plot of land to grow crops for the Thurston County Food Bank.  Join a dedicated group of gardeners to supply food to our county's hungry.
---
Headstart Giving Tree
                                              Contact: St Mark Office
Every Christmas St. Mark members purchase Christmas gifts of new warm clothing, coats, and shoes for pre-school children in the Head Start programs at Hawks Prairie and Friendly Grove (formerly Rogers) centers.   We usually provide gifts for about 140 children. The names of children are available on the  Sunday before Thanksgiving and gifts are due back the second Sunday in December.
---
Thanksgiving Baskets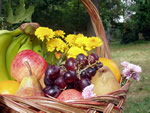 Contact: Gail F
We supply gift cards and/or store prepared meal gift certificates to needy families with children that go to Mountain View Elementary school.  We announce the drive in early November. This is an ongoing project at St Mark Lutheran Church. This program is in addition to some of the more recent activity of direct monetary donations to Mountain View Elementary School for improvement of school learning activities.
---
Thurston County Food Bank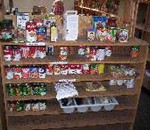 Contact: Pam C and Chuck C
The first Sunday of each month is Food Bank Sunday .Members are encouraged to bring food on Sunday mornings and/or make cash donations to the Thurston County Food Bank. If you bring the food in to the church, we will see to it that it gets to the food bank. Many members also volunteer down at the Food Bank in a variety of ways. Many who have volunteered report this direct action volunteer work to be very fulfilling.
---