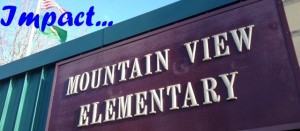 St. Mark has developed an active and vibrant partnership with the large elementary school across the street – Mountain View Elementary.  The Principal at the time this program was set up attended our worship service to thank us for all the great things we have done to help the school, the staff, and their families!
Since 2012, St. Mark members have:
• Raised $10,000 as a gift to the school to be used how they deem best.
• Mentored children one on one in the Mentoring program.
• Volunteered in classrooms helping teachers.
• Worked with the Thurston County Food Bank staff to host field trips to the Community Garden. In the spring of 2014 and 2015, over 500 children each year helped plant crops for the Food Bank, identified vegetables in the garden, and had a healthy garden snack.
• Hosted fall field trips of first graders who planted pumpkins as Kindergartners – each got their own pumpkin!
• Contracted with the school allowing them to utilize some St. Mark facilities for orchestra and other classes.
• Supplied grocery store gift cards for Thanksgiving meals to needy families each year.
• Supplied Christmas gifts of family games for needy families each year.
• Received some beautiful garden plaques from the Mountain View children for the St. Mark Community Garden.
We continue to look for ways to partner and serve Mountain View Elementary staff and families. Come join us in this important community ministry.