PASTORS BETH AND ERIC
We are Beth and Eric Utto-Galarneau. We equally share a 1.5 time position at St. Mark. We are happy to be here! St. Mark is an amazing place filled with talented, loving, generous, faithful people.
We came to St. Mark in the summer of 2012. Before being called to St. Mark, we served congregations separately in Palo Alto (Beth) and Santa Clara (Eric), CA, and together in South Lake Tahoe, CA, and Aberdeen, WA. While in Aberdeen, Beth also taught 6th grade half time and Eric ministered as a hospital chaplain. Both of us grew up in Washington state–Beth in Ridgefield and Eric on Camano Island. We met while attending Pacific Lutheran University.
Prior to becoming pastors, Beth taught elementary school and Eric worked as a social worker. Beth completed her Masters of Divinity in 1993 at the Lutheran School of Theology in Chicago and Eric finished his in 1997 at Pacific Lutheran Theological Seminary in Berkeley.
We have two college-age children. All of us enjoy playing sports, family trips to Disneyland, being creative, and being outdoors.
We welcome you to St. Mark!
MUSIC DIRECTOR
TERRY SHAW
We are thrilled to have Terry Shaw serve as our Music Director at St. Mark! Terry has a long history with music and education in the church, schools, and community. Terry has worked as a musician in a variety of churches since he was in 6th grade.
Terry began teaching choir and weight training at Timberline High School in 2001. Since then, the Timberline Choirs have grown from 2 choirs with 37 students to 6 choirs with 180+ students yearly. The THS Choirs have performed all over the state as well as travels to Chicago (2015), San Francisco (2008 & 2012) and New York- twice performing at Carnegie Hall (2005 & 2010).
Terry also was the founder and director of the Olympia Choral Society, an adult community choir of 100 voices whose mission is community service. They meet this mission by providing free concerts to the community, giving away money to local charities to benefit children.
Terry has coached football since 2001 and is currently Head Football Coach at North Thurston High School.
Terry earned a Master's of Music from Boston University in 2007. He holds a Bachelor of Music Education from Pacific Lutheran University. He is most proud of his beautiful wife, Jennifer, and two boys Trevor and Owen.
BELL CHOIR DIRECTOR
LEAH WILSON
Leah, a native Olympian, has been a handbell musician for over 25 years. She was introduced to handbells in the early 90's, and began the journey from ringing in a choir to solo and ensemble work, then teaching and directing. Concurrently, and in addition to PraisRing at St. Mark, she directs Alleluia! Handbell Ensemble, an ecumenical choir based at Olympia First Christian Church, plus the handbell choirs of First United Methodist Church of Olympia and Westminster Presbyterian Church.
Now retired from public service, Leah devotes more time to bringing handbells and handchimes into the community. In addition to church services, Alleluia! Handbell Ensemble has played for various local functions including Arts Walk, Downtown for the Holidays, and Sing from the Heart, and presented programs for seniors, children, other churches and special events.
Leah teaches handchime classes at The Firs Retirement Community, The Boardwalk Apartments, and Affinity of Olympia. She especially enjoys participating in the music ministry at St. Mark and feels blessed by the welcome she has received from the PraisRing handbell choir. PraisRing rehearses on Thursday evenings starting at 7 PM. We welcome new ringers, with or without music or handbell experience. Together we help each other learn, develop skills and grow in appreciation of God's gift of music.
                      OFFICE ADMINISTRATOR
                         VICKI LABENSKY
We are delighted to have Vicki Labensky as our Office Administrator! Although originally from Wisconsin, Vicki and her husband Darrin live in Lacey and are active members of St. Mark.
When she is not busy in the office, you can find her assisting with our youth, serving as a Confirmation mentor, singing in the choir, and supporting the SAFI School Project. Vicki's background and degree in Office Administration, her gracious manner, her depth of faith, and her servant heart make her a great member of our ministry team.
During her free time, Vicki enjoys being outdoors, taking walks, and spending time with friends.
CUSTODIAN
VANCE COCHRAN
Vance has been working at St. Mark as Assistant Custodian since 2008. More recently, in February of 2012, Vance has taken the position of Head Custodian. Vance owns his own janitorial business, "Da Cleaner", where his motto is "Cleaning Thurston County One Building at a Time". Vance has a degree in Cosmetology and worked 25 years in that industry before opening his janitorial business. In his spare time, Vance says he likes to "eat and work" and spend quiet time with his family. His beloved pet dog, named Morocco Bama, is a big part of that family. We can tell by the excellent work he does around St. Mark that he is well on his way to the goal of a clean Thurston County!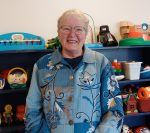 Nursery Attendant
Marilee Breselow
Marilee grew up in Washington State and graduated from Olympia High School. Marilee holds a BS degree in Applied Behavioral Science. She is retired from State Farm Insurance Company. Marilee has three adult daughters, 9 grandchildren, 9 great-grandchildren and a dog named Charlie!
Marilee began as Nursery Attendant in July, 2021. In addition to her employment at St. Mark, she also works part-time for Sequoia Assisted Living as a concierge. Marilee volunteers at the Senior Center and is very involved in her membership in  Altusa International of Olympia. 
In addition to her busy work and volunteer schedule, Marilee enjoys playing the piano, quilting, Diamond Dotz painting and computer jig-saw puzzels.
Marilee brings many skills to her position. She is competent, caring and has the perfect personality for her work in the nursery. As our St. Mark kids get to know Marilee, they are certain to love their time with "Aunt M"!
Media Technician
Isaiah Utto-Galarneau
Isaiah was hired in February 2022 to record, produce, and post weekly videos of our Sunday morning worship services.  Having grown up in the church as a double pastors' kid, Isaiah is happy to help at St. Mark.  He is a music major at Pacific Lutheran University in Tacoma.  In his spare time, he enjoys powerlifting, playing rugby, being outdoors, and singing.