PASTORS'  WELCOME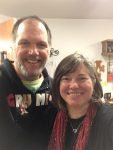 We are Pastor Eric and Pastor Beth Utto-Galarneau.  Thank you for seeking to know more about us and our congregation!  As pastors, we feel blessed to serve with the people of St. Mark.
St. Mark Lutheran Church is a place of grace.  We are a diverse group of people who seek to live as loved and forgiven children of God.  We are life-long Lutherans, people of many other faith traditions, and those with no faith background at all.  Together we pray and play, serve and share, laugh and learn, feast and fellowship, and worship and witness.  St. Mark is a congregation with the generous heart of a servant–reaching out with the love of Christ to each other, to this community, and to those around the world.
We invite you to explore with us what it means to live as disciples of Christ and to love God as we love our neighbor.  All are welcome to grow in God's love and share together in the journey of faith.  Welcome to St. Mark!
(More biographical information about our pastors can be found on the "Our Staff" page.)