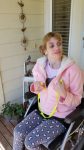 On Saturday, February 6th, a small group of  family and friends of Laura Goeres gathered outside at St. Mark with Pastor Beth to give thanks for Laura's life and to plant a crabapple tree in remembrance of her.  Laura passed away unexpectedly on December 20, 2020 at Providence St. Peter Hospital. Laura is remembered for many reasons including her spunky, strong, sweet spirit.  In the midst of our sorrow, we celebrate that  God welcomed Laura home with love and rejoicing.
Laura's tree will grace us with beauty throughout the different seasons of the year.  The Royal Raindrops Crabapple Tree has magenta flowers in the spring followed by maroon foliage during the summer which turns bronze in the fall with red crabapple fruits.  The tree is planted near the outside entrance to the labyrinth on the North side of the church. God blessed our remembrance of Laura and the planting of this beautiful Royal Raindrops Tree with many grateful hands to help and a gentle rain falling throughout the ceremony.
Laura's tree was dedicated with the following prayer:
In the name of the Father, Son, and Holy Spirit, we dedicate this tree in loving memory of Laura Lynn Goeres and in thanksgiving for the beauty of God's never ending love.  May this tree grow and flower and fruit and remind us of Laura and call to mind God's promise to be with us through all the seasons of life.  May this tree's strong branches teach us to lift our hearts in praise and thanksgiving to God.  Now and always.  Amen.
The song offered in Thanksgiving for God's welcoming love for Laura is "Welcome Home" by Michael W. Smith.