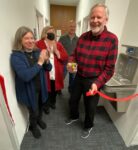 Today we dedicated our new Clean Kids Showers!  We were delighted to have North Thurston Public Schools Director of Student Services to help us celebrate! These showers were built especially for use by NTPS students and families.  This ministry grew out of our Clean Kids Laundry.
The mission for Clean Kids began in 2016, when we learned that 1 in 20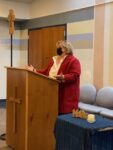 students in our school district (one student per classroom) was homeless.  We were deeply troubled and wondered how we can help.  We asked the school district homeless liaison, "Besides housing, what is the greatest need?"  The answer was "clean clothes."  Doing laundry in a laundromat is cost prohibitive for many families.   When a student has dirty clothes, they do not want to attend school because of embarrassment, shame, bullying, and low self-esteem. Absent from school, their education suffers.
Clean Kids began with a laundry room to address the #2 need.  Through generous grants from the North Thurston Education Foundation, Lacey Rotary, Altrusa, St. Mark members, and community members, along with the labor of church members and local contractors, a Sunday School room was transformed and converted into the no cost Clean Kids Laundry Facility which is equipped with three commercial washers and four commercial dryers.  They are being used weekly.  Church volunteers accompany our guests.  Inside the room we have offered a small pantry with free food and other basic necessities.
From this important ministry emerged the realization, many of the guests who use our laundry also need somewhere safe for their families to bathe their bodies.  That's when the Clean Kids Shower project began.
In 2019, St. Mark member and retired architect John Martin drew plans for converting the bathrooms in our Educational Wing into two shower rooms and two bathrooms with toilets and sinks.  The plans were approved by the city with significant support for this project.   A childhood friend of Pastor Eric's heard what we were trying to do and gave St. Mark a donation as seed money for this important ministry.    Unfortunately, COVID slowed down our progress a bit, but it also helped build a strong base of support. Through a generous grant from the North Thurston Education Foundation and donations from St. Mark members the project was fully funded and construction began early this summer.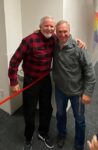 Although we had to wait a while to find the right contractor, we feel very blessed that contractor Darren Ahlf was willing to take on this project.  Darren grew up at St. Mark and is a skilled contractor who understood our mission.  He was assisted by St. Mark volunteer John Martin.
Contractors who worked on this project and companies who supplied materials, many of them donating materials or labor, include:  Evergreen Concrete Cutting, The Bathroom, Dustin Concrete, Vinny's Unique Drywall, The Home Depot, Lowes, Platt Electric, Keller Supply, Kell-Chuck glass, Tanglewilde Lumber, Great Floors, Elkay, and Katom.
Also, St. Mark member Gary D. made our beautiful shower benches.
Jenny B. is our shower coordinator.  She was the first voice to say, "it seems if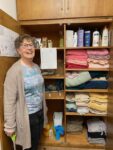 we are offering a place for people to wash their clothes, we should really offer them a place to wash their bodies too."  Jenny has worked hard to get our crew of volunteers organized and to collect all the supplies needed.   Supplies include: shampoo, conditioner, body wash, towels, wash cloths, and hair dryers.
We are delighted to offer students and families in the North Thurston Public Schools a private, safe place to shower!
Prayer offered as a blessing on our Clean Kids Showers: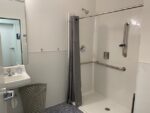 Gracious and loving God, we ask for your blessings upon our Clean Kids Ministry—both the laundry and the new showers.  We thank you for the many people who came together to help make this compassionate idea a reality.  Bless this ministry and bless the people who use our showers.  May the waters not only cleanse theirs bodies, but also refresh and renew their spirits.  We thank you for the privilege to live as your children together on this earth.  Continue to teach us how to love one another.  Shower all of us with your love, each and every day.  In Jesus name we pray.  Amen.