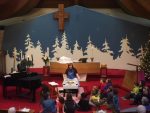 First Sunday of Advent
The First Reading for today is Isaiah 64:1-19, …."You, o God, are the potter and we are the clay–the work of  your hand."
Pastor Beth 'threw' a wedge of clay on the potter's wheel while she spoke to us of God's love.  Like an artist, God is always shaping us with love.  When we were created, God lovingly breathed life into us.  Our lives are a creative expression of God's love.
Sometimes, especially when we are lonely, discouraged, or sad, we wonder, "Is God there?" During these times, like a potter shaping her clay, God is quietly and lovingly pouring over us to shape us and our lives into something purposeful and beautiful.
A potter supports the piece she is working on as it is being formed. We gather to support one another, especially when pressure outside or inside is becoming too great.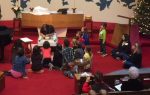 We come before God a little lumpy and bumpy.  Yet, God is with us like a potter pouring over her clay with great love, shaping our lives to be a blessing.
View the video of the pottery making procedure and associated sermon below.