Due to the amount of snow still on the ground (and on roads), the extremely low temperatures forecast for this evening and tomorrow, and the unsafe conditions of our parking lot, worship services tomorrow are canceled. We and your church council want you to please stay home, keep warm, and be safe.
We apologize for making this decision later in the day. We were sincerely hoping conditions would improve enough to, at the very least, hold our later service. We will post this information on our church website and Facebook page. Please feel free to share it with others. The risk in making changes to our worship schedule (for any reason) is that we will miss someone. You can help by calling any St. Mark friends who may not be on the Internet. Again, please spread the word!
Although our services are canceled, we encourage you to make time for worship and service. Stay in your pajamas and praise God at home in your slippers. Offer a prayer for your church family and other loved ones. Enjoy the beauty of the snow. And give thanks to God for the blessings in your life.
We will miss seeing you tomorrow. We send our love and deep appreciation for each one of you!
Many blessings,
Pastor Beth and Pastor Eric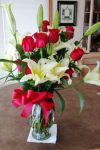 Altar flowers were given by Carol P in celebration of Valentine's Day and of God's love in the world.  (They were arranged by Gail F).