Twenty hard-working High School students and two teachers  from the Northwest Christian High School spent 120 hours of service in the St. Mark Community Garden on Wednesday April 24th.   Great thanks to Michaela Winkley from the Thurston County Food Bank for directing this group to our garden.
There is always a tremendous amount of work in the spring to get the garden up and running, and this year was no exception.  The first task the young people tackled was planting 10 rows of potatoes – or 1000 row feet as farmers would call it.  Haldor T-F, our potato expert, oversaw the process, and was very impressed with how the kids took their job seriously.  If potatoes aren't planted correctly they will not produce well so Hal was exacting in his expectations, and the kids came through.
Next, a group tackled the removal of a very weeded-in row of raspberries.  This was a herculean task, and took several hours.  Other small groups weeded large areas of the garden. Others turned and added compost to the raised beds, and then weeded the aisles between the beds. Between 9am and 3 pm all chores were accomplished and the garden was transformed into a beautiful, weed-free, and composted space any gardener would be most proud of.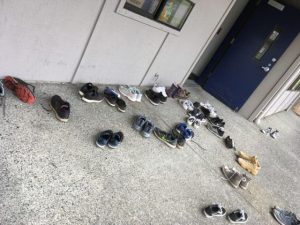 Earla F and Bergel Z fed the kids a hearty meal of Sloppy Joe's, salads, chips, and cookies. Shoes off in the Parish Hall, please!  It was a sunny and warm day, and the feeling of good-will during the day was palpable.  A HUGE thank you to the Northwest Christian High School. Please come back next year for your service days. it gave us such a good start this spring.