U.S. Immigration and Customs Enforcement agents arrested Betty Rendón Madrid, a pastor at an Evangelical Lutheran church in southern Wisconsin, along with her husband, Carlos Giraldo.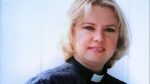 The family fled Colombia in 2004 after Betty received threats from guerrilla fighters while principal at a school. The family, in 2006, filed an application for asylum, citing those threats. Their application was denied in 2008 by an immigration judge. The family appealed the ruling but it was upheld. The family became home-owners and both held employment. Betty completed the process to become a pastor through the Evangelical Lutheran church, but she wasn't able to be ordained because of her immigration status.
In the past couple of weeks, the Evangelical Lutheran community in Wisconsin and Illinois joined immigrant advocates to hold vigils, write letters of support and organize news conferences in both states to bring attention to the case. But the couple was placed on an airplane and deported to their native Colombia.
Today's Gospel (John 17) shows Jesus praying that we may be one as he and God are one. Pastor Beth told Betty's story.  Our responses to this story illustrate the broad spectrum of opinions and beliefs about what it means to be a community. We must ask how Betty's story matters to us. Jesus calls us to truly love our neighbor, even though we may not feel comfortable in doing so. We are one in Christ, whether we agree with each other or not. As Pastor Beth relates, one person's story becomes our story as we live out God's love story with the world.
To listen to the Gospel and full sermon, click the link below.